Seeking a Spring Challenge?
There are many ways to happiness and we believe that dance is definitely one of the best!
This is a great week to start whatever your age or ability:
Complete beginners
Try our Drop IN Class Wednesday 8 February  6-7pm. Join us and other friendly beginners starting on their journey of dance. No problems with left or right feet….our only criteria is you fancy learning to learn to dance and have some fun!
And we have a special offer this month to help you get started.
For everyone
You might even enjoy a little stretch after the class with Neesha and her Pilates Class at 7.15-8.15pm
Improvers and Intermediates
Our Four week Tango course starts Monday 6 February 8-9pm;
General Level
Don't miss our Drop In Classes – Monday from 7-8pm
Latin Pro Am
And for those more advanced who want to work on their Latin, we are delighted to welcome Nauris for his NEW Pro Am Latin class Thursday 9 February 8.30-10pm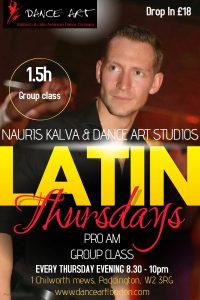 You may also enjoy our other classes scheduled on our regular timetable
Come along and lets all cheer our winter blues!
Just contact us to book your place,
See you on the dance floor!