Kids dance programme
Kids love to dance.
Our programme for kids is focused on keeping them moving and have fun.
Our classes cover:
Strictly ballroom – for young kids to experience the fun of basic ballroom and latin american. These classes work on posture, balance and musicality.
Ballet for Tiny Tots (aged 3-4 years) and for Juvenile (aged 5-10 years)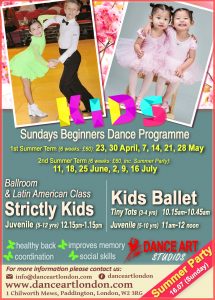 Classes run on a five or six week term basis to fit with school times.
Contact us for details at info@danceartlondon.com