Kids dance programme
Kids love to dance.
Our programme for kids is focused on keeping them moving and have fun.
Our classes cover:
Strictly ballroom – for young kids to experience the fun of basic ballroom and latin american. These classes work on posture, balance and musicality.
Ballet for Tiny Tots (aged 2 1/2 -4 years) and for Juvenile (aged 5-10 years)
All newcomers to the studio are welcome.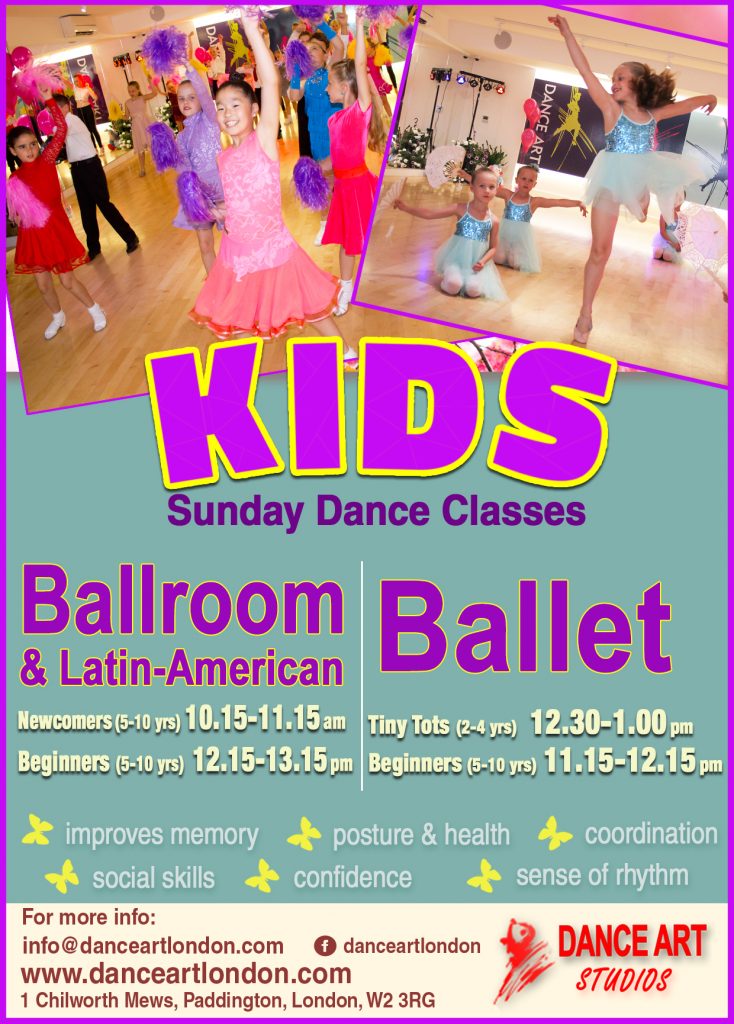 Classes run on a five or six week term basis to fit with school times.
We always want you and your child to enjoy their learning and benefit most from our programme so please read and understand our charter set out below for our working together.
Please let us know if you would like to discuss any of the terms.
OUR DANCE ART STUDIOS PARENT'S CHARTER
We are delighted to welcome you and your child to our Kids' Ballroom & Latin American Dance Programme, a unique mix of activities to develop your child's love of dance.
Our programme is designed exclusively for young students of Dance Art Studios and is not available to students of any other dance studio.
We want you and your children to have the best experience from learning with us at Dance Art Studios, whatever your objectives.
Our programme covers Ballet, Ballroom & Latin American Dance through group class courses on Saturdays and Sundays (payable by the term) and private lessons (paid by lesson).
Our policies on payments are set out below.
We also offer the additional options of exams and competitions for those who want this experience. Please contact for details of our current prices, commencing 1 September 2017.
We always aim to:
Work with you to ensure your child enjoys their dance experience. We encourage our young students to work hard and practice but always have fun and enjoy their learning with us; and
Celebrate the achievements of all our young students with a party and showcases twice a year, for our students and their parents. These events provide every child with the experience of performing in a friendly and supportive environment and their parents with an opportunity to meet other parents and enjoy their child's progress.
To help us achieve this we ask you to please:
Trust us to care for your child during the lesson. To maintain discipline and focus while the teaching is taking place, we ask parents to wait outside the studio. In our experience the little ones concentrate better and learn faster without the distraction of parents or friends. However we do encourage you to attend the first class to confirm it is the right class for your child and you are always invited to the final class of each term to view the progress made by your child;
Avoid accidents and make sure your little ones move around the studio with care. Our polished floors and mirrors are designed for supervised dance only and can be very dangerous for anyone running around. We want to avoid any injuries. Any damage to the property must be paid for;
Respect our other students. Use the changing rooms on the lower floor for all changes to, and storage of, clothes. Lockers are available if required; and
Keep the studio floor clear and keep all bikes, prams, scooters and carriages outside the studio. You may leave smaller items behind our main door although the space is limited. Please ensure any items left outside are safely secured as we are unable to take any responsibility for items left in or around our studio;
Please note our policies on:
Class sizes – We keep our programme class sizes to optimise your child's overall experience of dance.

For Ballroom and Latin American classes we aim to keep the class size at 16-20 children. This allows 8-10 couples to learn together and create a happy and healthy atmosphere for learning and development and to develop early competitor skills for those who wish to develop this area.
For Ballet classes we allow up to to 16 children on the class. This allows everyone sufficient space to enjoy their dance and work at the ballet barre.
We offer private lessons for those who want individual tuition.
Payments – All programmes (Saturday or Sunday, five or six week, courses) must be paid in full in advance of the first class, by bank transfer. Please ask us for details.
Refunds – We are unable to offer any refunds for programmes however, at our discretion; we may offer you alternative classes where your child has had to miss two or more classes because of sickness. In certain cases, if you prefer, we may be able to recalculate the payments made to private lessons.
Space for teachers – The area by the coffee machine is reserved for teachers only and should not be used by parents, students or friends of students. Seating for parents is available by the windows on the upper ground floor before and after lessons if required.
Facilities – Toilets and changing facilities are available on the lower ground floor. The facilities on the upper floor are for reserved teachers' use only.
We trust you understand that these policies are for the benefit of all our students and teachers to ensure everyone gains the maximum benefit and enjoyment from being part of Dance Art Studios.
If you join our programme we will ask you to please confirm that you understand and accept the policies set out above and let us know if there is anything else you would like us to consider in your child's programme with us.
We look forward to working with you and sharing our love of Ballroom and Latin American dance with you and your child.
Vlad & Lena Shalnev
Directors, Dance Art Studios Limited
Contact us for details and to discuss your requirements at info@danceartlondon.com