Takes Two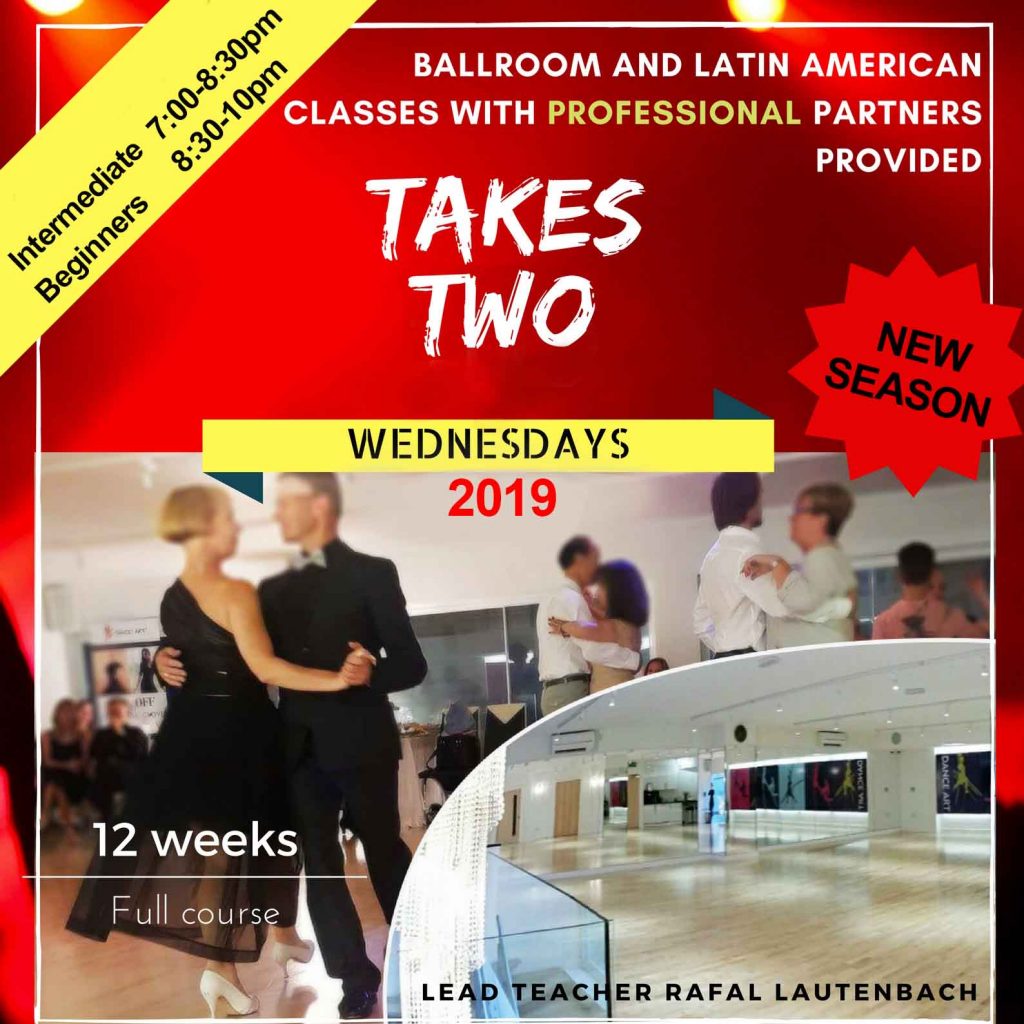 TAKES TWO  is our unique programme designed to provide you with a very special and personal experience through the glamour, passion and beauty of Ballroom & Latin American Dance.
You will learn alongside a team of experienced dance partners who will lead you throughout your journey.
Our programme is designed exclusively for clients of Dance Art Studios, those with a passion to dance and who wish to experience the beauty of dancing led by an experienced dancer.
As the BBC " Strictly" experience shows, learning to dance with a professional can be a life changing experience. You will feel you can already dance the moment you start to follow them across our dance floor.
We want you to have the very best experience from learning with us at Dance Art Studios, whether you are a complete beginner or a more experienced dancer looking to improve your skills. Either way, it "Takes Two" to make it an exceptional experience!
Our experienced dance partners are selected for you for their skills, patience and personality to provide you with the very best experience during your journey through the beauty dance. They are all current or former competitor level dancers experienced in leading their partners through the dances.
Rafal Lautenbach, our lead teacher, is a highly experienced former professional dancer, who has danced internationally since his childhood. He is one of our most popular and patient teachers and our students love his teaching style.
Our programme
Our programme covers twelve weeks split into four terms, each of three weeks. Each class lasts for one and a half hours.
Each term you will experience the style and techniques of the different Ballroom and Latin dances.
Contact us for details on the the current programme.
It is our intention for you to experience all of the dances during the programme although we reserve the right to alter the mix and order of the programme if required.
To experience the very best from the programme you will need to complete the four terms of the programme. If you are unsure about committing to our programme we can offer you an option to book by term. Please note that with this "term by term" option we may not be able to guarantee you your place and continuity in the programme.
Our policies on booking and payments are set out below.
We always aim to provide you with:
Continuity with an experienced team of dance partners who will lead you through the course so you can become confident through your journey of dance.
Privacy of the group as you collectively develop your confidence. Our programme course will take place in one of our two luxury studio floors with our lead teacher focused on your group. Please note that there may be other private lessons or competitor coaching taking place in one of the other studios at the same time as your programme.
We ask you to please:
Attend the course you have joined. If you are unable to attend an individual class please let us know with at least 48 hours notice so we can advise the professional partner. We are unable to offer refunds for missed classes however we always seek to help our programme clients in unavoidable circumstances. Please see our policies on missed classes set out below;
Wear appropriate clothing and footwear. We recommend comfortable clothing suitable for active dancing. Our maple- sprung floor is prepared for professional dance use so please wear dance shoes appropriate for the purpose. Stilettos and rubber soled shoes are not allowed on our dance floor;
Respect our other students. Use the changing rooms on the lower floor for all changes to, and storage of clothes. Lockers are available if required;
Respect our dance partners. They allocate their time for this programme to give you the best experience so please arrive on time for the class. They may be preparing for their own competitions so if you arrive early and see them in the studio warming up please respect their time. They will be better prepared for your lesson;
Keep the studio floor clear of all bags for safety purposes. Please ensure any items left outside are safely secured, as we are unable to take any responsibility for items left in or around our studio.
Please note our policies on:
Class sizes – We aim keep our programme class sizes to no more than 10 clients. This enables you and your dance partner to learn together and create the lively atmosphere of dance experience on the dance floor. We do offer private lessons for those who want individual tuition with a partner.
Payments – We offer two options for payment for this programme:

The full price for our Autumn 2017 programme is £780. You can reserve your place for the full programme and pay in advance. This ensures your place and continuity of the programme and includes access to additional VIP benefits and offers at our studio. All payments must be made in full, by bank transfer, at least 48 hours before the start of the first lesson. Please contact us for details.
If you are new to dance or unable to commit to the full programme, we can offer you the option to book and pay by term at a price of £195 per term. All payments must be made in full, by bank transfer, at least 48 hours before the start of the first lesson. Please contact us for details.
Refunds – We are unable to offer any refunds for programme lessons. However we recognise that there will be occasional emergencies requiring a change in plans and we do seek to help our programme clients where we can.
Provided you have given us more than 48 hours notice of your absence, at our discretion and on no more than two occasions during two consecutive terms (six weeks), we will do our best to arrange for you to have a 45-minute "catch up" class with a partner during the time of the programme.
Unfortunately we are unable to help if you fail to provide us with the 48 hours notice, as your partner will already be assigned to the class.
Private lessons – We encourage you to consider private lessons with your dance partner to complement your group learning. These should always be booked and paid for though our studio where our team co ordinate the schedules and programme syllabus. Please contact Vlad or Lena to discuss.
Space for teachers – The area by the coffee machine on the upper studio is reserved for teachers only and should not be used by any clients. Seating is available on the upper ground floor before and after lessons if required.
Facilities – Toilets and changing facilities are available on the lower ground floor. The facilities on the upper floor are for reserved teachers' use only.
Photos and videos. We are happy for you to take photos and videos of your progress in the studio but ask that you try not to do this during the lesson as this disrupts the focus of the other clients focused on learning. We may take occasional pictures and videos for our studio marketing purposes. If you do not want to be photographed please advise us.
We trust you understand that these policies are for your benefit to ensure everyone gains the maximum benefit and enjoyment from being part of Dance Art Studios.
Please confirm you understand and accept the policies set out above and let us know if there is anything else you would like us to consider in your programme with us.
Our team looks forward to working with you and sharing our love of Ballroom and Latin American dance with you.
Vlad & Lena Shalnev,
Directors,
Dance Art Studios Limited